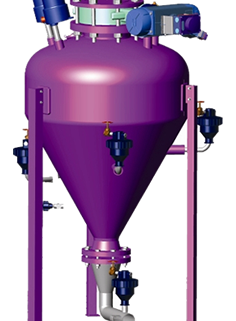 The Bart-one line has a flow rate up 20 tons/h depending on the length of the trajectory and the transported material. It has a capacity up to 900 litres.
There is also a high temperature version suitable for materials up to 200° C.
Bart-one 80
Vessel suitable for transports up to 50 meters (140 feet) with a capacity of 80 litres and a pressure limit up to 4,5 bar (tested till 8 bar according the PED – European Pressure Equipment Directive).
Bart-one has a capacity of 2 tons/h, a loading mouth of 200 mm in diameter and an unloading mouth of 2", 3" e 4".
Bart-one has been designed for the standard method of transportation (or hollow tube). It is also suitable for movement with full tube for fragile materials, abrasive and mixtures and for use as a metering system on the scale.
Bart-one 150 – 300 – 600 – 900
The Bart-one transporters are available in four different capacities: 150, 300, 600 and 900 litres. All of them have a capacity from 3 to 20 tons/h and are equipped with an advanced control system of air inlet.
They are suitable for transport up to 70 metres (200 feet) and for pressure up to 6 bar and have a loading mouth of 200 and 250 mm in diameter.