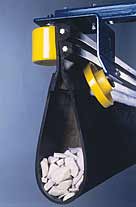 Simple & flexible installation in existing buildings & structures
Due to its flexibility, the Sicon enclosed conveying belt is easy to install. Existing buildings & structures can be utilised. The belt can be installed so to avoid obstacles. The Sicon enclosed conveying belt allows new opportunities for routing & configuration. In comparison to other enclosed conveying belts, the Sicon system requires less & simple rollers, which results in a significant reduction of investment in modifications to buildings, structures & fixtures.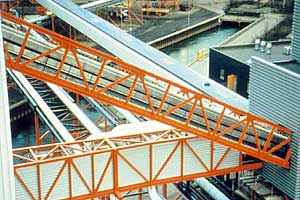 Every bend results in a reduction of cost
In every case, having the Sicon enclosed conveying belt negotiate a bend is more cost effective than installing transfer points used in conventional conveying belt systems. In addition, the Sicon system eliminates the need for other investments that conventional conveying belt systems require, like transfer buildings, dust extract fans, service platform & installed elevations for transfer points.
Low energy consumption
The energy needs for a Sicon enclosed conveying belt is approximately equal to a conventional conveying belt system. It is however significantly less than energy levels required for screw- & chain driven conveying systems & a mere fraction of that required for pneumatic conveying systems.
Protects brittle materials
The enclosed belt protects the conveyed material along the entire route. Conventional, open conveying systems are often fitted with expensive cowlings, covering the belt & transfer points.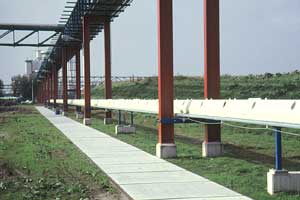 The clean surroundings of the Sicon enclosed conveying system ensure significant savings in life cycle expenditure.
The enclosed belt systems eliminates all cost of spillage & requires significantly less cleaning. The use of belt scrapers is not required, which reduces wear & tear. Degradation of the transported material is also reduced because of the belts impact absorption during loading. Issues with tracking due to off-centre loading are eliminated as the mass is carried in the centre of the belt's sectional profile. Reduced spillage & dust formation also results in less wear & tear of supports & the system's rollers.
Improvement in health & safety
The enclosed conveying belt & the elimination of transfer points effectively separate dust & other potentially harmful materials from the surrounding environment.