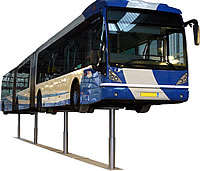 The 4-Ram-Lift allows the lifting of double articulated buses or long tractor trailers. Although the design, technology & ease of operation are the same as the 2-Ram-Lift, the electronic synchronisation device is complemented with a locking system which eliminates unintentional differences in height.
Two of 4 cylinders are typically fixed installations & 2 cylinders can be electrically adjusted in the horizontal longitudinal plane (sliding). In addition, it is also possible to install 3, or all 4 cylinders with an electrically adjustable base. The standard travel between cylinders/rams is 3.750 mm. Other travel distances can be realised upon request.
It is possible to operate each ram individually, or in pairs. Thus, a 4-Ram-Lift can also be used as a single 3-Ram, or a single or double 2-Ram-Lift.
In addition, a mechanical safety device is fitted in the shape of an automatic notched locking bar. These locking devices ensure all JAB lifts are in compliance with EN1493.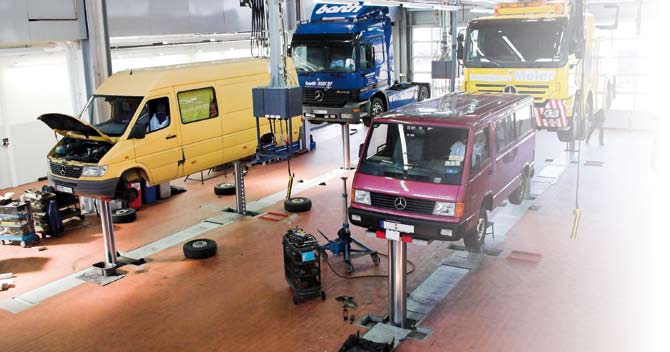 The various components (cylinders, foundation, slot covers, etc.) allow the creation of a large number of combinations. This is to offer clients the greatest flexibility & to find the best solution for every problem in every application.
All lifts are available in an explosion-proof version.
Lifting capacity per cylinder: 14 tonnes
Lifting capacity of the lift: 56 tonnes
Maximum vertical travel: 1.900 mm
Piston diameter: 190-214 mm
Working pressure: 57 bar
Minimum installation depth: 1.450 mm
Cylinder configuration: 2 & 4 fixed, 1 & 3 adjustable (3 or 4 adjustable rams optional)