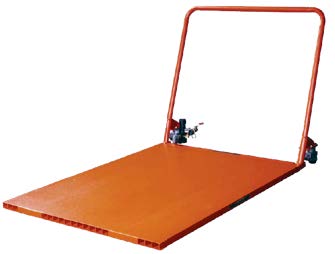 Aero-Pallets ™ where specifically designed to easily & precisely move heavy loads on a nearly frictionless film of air. They make work easier for the user & do not damage the floor. Their flexibility makes them the ideal tool for lean production street applications & during production test phases.
Catalog models have a capacity of 230 kg to 14 tonnes & tailor-made solutions can be built to any type of load, regardless of weight or configuration. Optional handles, throttle controls & no-load wheels make working with Aero-Pallets™ even easier, both laden & unladen. AeroGo products are reliable and virtually maintenance free, air is all you need.
On air, you carry your heavy loads cheaper than other means of transportation. Aero-Pallets™ can substitute, in part or whole, the tasks of expensive roller, conveyors, cranes & forklifts & create a more pleasant workplace for your staff. The flexible Aero-Pallets™ allow omnidirectional movement of individual components without problems & removal them from an assembly line or reinstatement (i.e. for testing, repairs or special treatments). Aero-Pallets™ are available with fixed or automatic locking mechanisms to avoid paper & steel coils from moving whilst the pallet is moved & are easily modified for use as table work surfaces or lift tables. They are ideal for use in cleanrooms & hazardous or explosive areas because air is the only necessary source of energy.
Aero-Pallets™ are extremely easy to use… connect the air & hover your cargo anywhere you want.