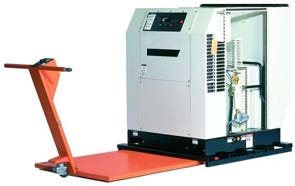 The new AS-25 Air Shuttle™ was equipped with the most current options, plus a very handy control handle, the AirShuttle™, the most user-friendly Aero-Pallet™ ever made. The basic model has a capacity of 2.5 tons and is available in different dimensions.
On air, you carry your heavy loads cheaper than other means of transportation. Aero-Pallets™ can substitute, in part or whole, the tasks of expensive roller, conveyors, cranes & forklifts & create a more pleasant workplace for your staff. The flexible AirShuttle™ allows omnidirectional movement of individual components without problems & removal them from an assembly line or reinstatement (i.e. for testing, repairs or special treatments). AirShuttle™ are available with fixed or automatic locking mechanisms to avoid paper & steel coils from moving whilst the pallet is moved & are easily modified for use as table work surfaces or lift tables. They are ideal for use in cleanrooms & hazardous or explosive areas because air is the only necessary source of energy.
The AirShuttle™ is extremely easy to use… connect the air & hover your cargo anywhere you want.