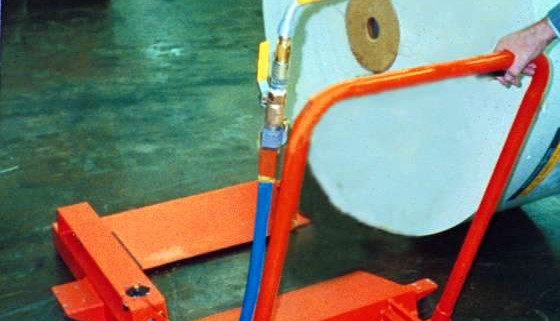 AeroGo's Roll Master™ literally floats heavy rolls of paper, sheet metal & cable drums on a film of air & helps save time & labor. Thanks to the patented technology, a single person can easily move heavy loads without a forklift or a rail system. A simple push with a force of just 1 kg can bring hundreds of kilograms in motion, allowing a single person to easily move, turn & accurately position even the largest & heaviest rolls of paper, sheet metal or cable drums with ease.
Roll Master™ uses standard utility/work air to immediately float & make heavy rolls move in any direction. The set is fitted with a fixed handlebar over the entire width, no-load wheels, a pressure regulator & an on/off ball valve. A dead man's switch can be installed on the handle is optional.
Using the AeroGo Roll Master™, very large rolls are moved easily, safely & omnidirectional, without noise or toxic gases.
We can also develop a full range of custom applications for soft paper rolls & other applications for handling bulk rolls.