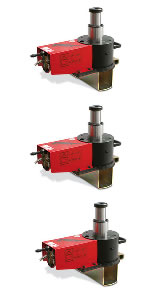 Air hydraulic jack for use on bars for a pit or lift.
The pistons rebound automatically; the two depressurising valves ensure a perfect hold in all situations & controlled rate under load.
The adapter for the profiles & the simplicity of access to the controls make it easy to work in a pit or under a lifting column. The profile can be provided on request. Ideal for workshops.