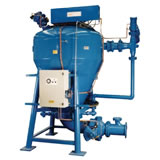 The Dense Phase Pump is a simple, effective and very reliable system to transport material from a loading station to one or more receptors. The Dense Phase Pump was originally designed for foundry applications in 1970. During the course of its deployment, the Dense Phase Pump was modified to make it suitable for the pneumatic transport of any solid bulks/aggregates, from fine cohesive materials to wet coal.
Dense Phase pumps are capable of transporting products:
With temperatures of up to 480 degrees Celcius
With a capacity of up to 100 tons per hour
Over a distance of up to 200 meters
The simple design of the system & the use of a Dome Valve, the only moving part in the assembly, guarantee reliability & low maintenance requirements.
Operation:
The hopper above the Dense Phase Pump needs to be fitted with a level measurement which detects the presence of material to be transmitted. Upon the detection of level in the system, the signal, in combination with a permissive from the PLC, will commence transportation.
The following cycle will be completed when transport is initiated from the control panel:
The shut-off valve at the top of the send-out vessel (Dome Valve) is opened, so that  material can flow in the vessel. Once the vessel is full, the inlet Dome Valve is closed. The material is then moved into the conveyor piping as it is pressurized by the transport medium. A pressure drop will occur in the send-out vessel & conveyor piping as soon as the last material has reached the receiving station. The cycle is then considered to be complete & the supply of air is shut down.
This cycle will be repeated until:
the feed material available to transfer has been depleted.
The system is switched off at the local control panel.
The level detection at the reception station indicates that it is full.