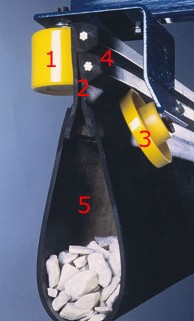 The SICON® conveyor belt is made of a highly flexible rubber capable of forming a pear-shaped "pouch". Supporting profiles are vulcanized onto both edges. Their job is to track the belt between the support and guide pulleys. Steel cords are vulcanized into the centre of the carrying profiles. The cords absorb the belt tension from the drive components. As the profiles are arranged above
one another, the belt is closed to form a dust tight pouch. Another advantage of this profile arrangement is that it enables the belt to incline to the side so that the cornering radius works out to less than a meter.
Vertical guide pulley
Two steel cords vulcanised into the belt with common axis for extremely short radii.
Tilted support pulleys close the belt.
Two profiles serve as guides for the rolls that support & guide the belt.
The pear shaped pouch containing the conveyed product, is made of a highly flexible & hard wearing material.
The Sicon belt self-aligns between the rolls.
Dimensions
The Sicon belt is manufactured in two principal dimensions to allow capacities between 1-500 m3/hour.
| | | |
| --- | --- | --- |
| | SICON 100 | SICON 1.000 |
| Capacity | 1-100 m³/h | 100-400 m³/h |
| Belt velocity | 1-4 m/sec | 2-5 m/sec |
| Min. bend radius | 400 mm | 1000 mm |
| Max. particle size | 40 mm | 70 mm |
Elements
Loading
The belt can be loaded at anywhere along the conveyor route. Special guide pulleys function to give the belt a U-shaped opening. In this way, the belt cushions the fall of the material during loading while steadying & accelerating its flow.
 
Drive/curves
The belt is guided into curves by means of individual deflection pulleys. The drives are fitted in at curves of at least 90 °.
Discharge
In the case of horizontal discharge, the belt opens up gradually and the pear-shaped pouch is transformed in to a flat surface. The material being conveyed drops off as the belt passes over the deflector pulley. No scraper is required. After discharge, the belt regains its original pouch form for the return run. Intermediate discharge is possible at any point along the conveyor run, either for the purpose of unloading or for further conveyance to the next discharge station.