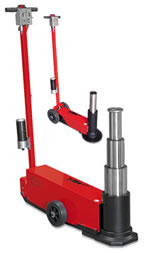 Air hydraulic jacks for heavy vehicles, practical & effective in use. The pistons rebound automatically; the 2 depressurising valves ensure a perfect hold in all situations and controlled rate under load.
YAK 135 is ideal for jacking heavy vehicles & agricultural vehicles. Equipped with a protective roll-over plate, & upon request, pneumatic wheels for working on uneven surfaces.
YAK 330 is specifically designed for lifting vehicles under the chassis, whereby maximum stroke & capacity are required.