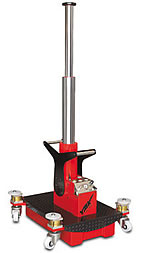 Mobile air hydraulic jack, fully automatic, suitable for lifting heavy vehicles or as support during maintenance of gears & differentials.
Our range consists of 8 different models, conceived & designed to meet all requirements. In addition to 2 different types of controls (EASY and TOP), 2 different wheel systems can be chosen: The 1st on pneumatic cylinders with an independent air tank & the 2nd with shock absorber mounted wheels.
The range is ideal for all workshops with a pit & for working under a lift. A remote control,  indispensable to work safely in all situations, is available from the broad range of accessories.